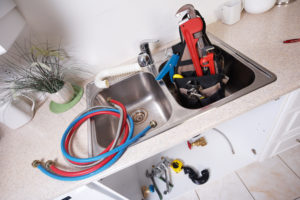 Summer is one of the most fun time of the entire year. It means no school, time at the pool and beach, and cookouts with the family. However, summer also means more laundry, more water being used, and toilets being used a bit more often. Below are some essential summer plumbing tips to keep your home running efficiently during these hot summer months.
Turn Your Water Heater Down and Refrigerator Up While Vacationing
Turning your water heater down and fridge up while on vacation saves energy while you're out of the house. Nobody needs hot water when nobody is home. This also saves you plenty of money while you're gone. You can also turn up the temperature of your fridge. This also saves you energy and money. Make sure to remove any perishable foods before, such as cheese, milk, fruit, vegetables, and meat. This is a summer plumbing tip that will save you plenty.
Watch What You Throw Down Your Garbage Disposal
Summer is an excellent time for cookouts with friends, family, coworkers, and neighbors. You will have to watch what you toss down your garbage disposal and how you get rid of certain foods. Avoid dumping grease down the drain after grilling, used cooking oils can do severe damage to your garbage disposal. Produce and fruits, like corn or watermelon, also cause damage to the blades and could lead to awful clogs. It is also recommended to run cold water at full pressure for at least 15 seconds before and after you toss something down the disposal to rinse it out. This is one of those summer plumbing tips that will save you from plenty of trouble.
Check Your Sewer System
Servicing your sewer systems before summer can help you avoid any issues. Summer includes dangerous thunderstorms and rain showers. Sewer pipes can gain excessive rain through these cracks, which can cause the sewer line to get backed up. Sewers can back up when storms hit, and the ground becomes soaked up with rain. It is recommended that homeowners install a drain pump in each drain to prevent water from backing up during these deadly storms. This is also quite affordable. If you've got trees and shrubs on your property, roots can also become an issue to your sewer system because of the rain. This causes the trees to all grow. You should call Mahon Plumbing if there are any signs of sewer line problems, like water from the toilet backing up. We can clear up any roots causing damage.
Call Mahon Plumbing Today
If you still have more questions regarding your plumbing, we here at Mahon Plumbing are here to help. We have been serving the wider Baltimore area since 1994, so we have 25 years of experience to back up our fantastic service! Call us at our Baltimore location at 410-766-8566 or our Pasadena location at 410-636-7944. Be sure to keep up with us on social media by following us on Facebook or Twitter.